Partnership Laboratory –
Centre of Excellence on Partnership with Patients and the Public
The Centre of Excellence on Partnerships with Patients and the Public (CEPPP) is dedicated to developing and supporting the science and practice of partnering with patients and the public to improve the healthcare system and overall population health. The activities of the Centre of Excellence are based on 3 basic infrastructures: a school (for the co-training of partners), a network (for increasing our reach) and a laboratory (in support of research and evaluation of patient partnership). As the founding organization of the Centre of Excellence, the Canada Research Chair contributes specifically to the development activities of the Partnership Laboratory. The Laboratory supports the Centre's scientific activities on four levels:
Development of a common research infrastructure for partnership research with patients and the public (partnership database, tools and evaluation framework)

Leadersip of the scientific community of the Centre of Excellence (e.g. journal club, monthly newsletter on the latest published literature)

Collaboration support and scientific production (e.g. grant application support and publication)

Support of partnerships with patients and the public in research settings by providing science-based expertise.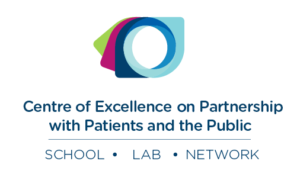 © 2023 - Chaire de recherche du Canada sur le partenariat avec les patients et les communautés | Site Web par: 
MixoWeb